There are a lot of people who would love to dress up as their favorite anime, video game or movie character. And the best part about this is that they can do so in a very cost-effective way. They can buy cheap or even used cosplay synthetic wigs and accessories to make themselves look like their favorite characters. However, before you choose which wig to buy, it would be helpful to know what to look for.
Reasons for wearing cosplay synthetic wigs
Although there are many reasons that individuals choose to wear synthetic wigs, one of the most popular is due to the ease with which they can be changed from the original anime/video game character into one that is more realistic and accurate to the original appearance. With the right accessories and hairstyling, you can make a wig look exactly like the character you are portraying. You can also have it dyed to give it the exact colors and design as that of the character you're cosplaying. This is just one of the many reasons why cosplayers enjoy wearing these items.
Many uses of cosplay synthetic wigs
There are also many different ways to make use of a wig. While it is not unusual to have these items worn by professionals in Japan, it is also common in the west to use them as accessories for cosplay. Wigs can be used in a variety of situations, including cosplay itself, to create a completely unique look. In addition to this, they can also be worn for fashion purposes.
What to pay attention to when buying a wig
When you are considering buying a wig for your cosplay, it is a good idea to be aware of the different styles and types of wigs available out there. When shopping, it is important to pay special attention to the material, how the hair is cut, the length, the color and style, and the type of materials used in the making of the wig itself. Each of these things will determine the quality and lifespan of the product.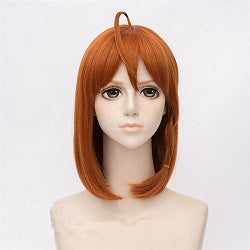 It is always a good idea to purchase synthetic wigs from reputable online retailers as these are guaranteed to be made of the highest quality. Moreover, they will be made from all-natural ingredients and do not contain any chemicals. These are perfect for those who want to save money while still enjoying the same look and style as you would if you were purchasing a wig from a local retailer. Once you have found a reputable retailer, be sure to take the time to read their policies on return policies and shipping policies.

One of the best ways to ensure that you are buying a wig that is safe and meets your needs when cosplaying is to shop at a retailer that sells all-natural wigs. When you choose a retailer that sells wigs, you are assured that they are guaranteed to be of high quality. The quality of a wig is what will determine how long it will last and how well it fits you.

Hair that is not of the highest quality is liable to crack, split, break, or split in the middle. This means that the wig will be unable to provide the level of protection that you need. In addition to this, it may not look the way that you want it to.

If you are considering buying a wig to go along with your cosplay, be sure to choose one that will fit your budget and be able to provide you with the protection and style that you want. Wearing a wig while you cosplay is a great way to help give your personality the look that you desire while enjoying the costume.