If you're looking for a perfect way to change your look without having to spend thousands of dollars, then look no further than good quality synthetic wigs. These items are becoming more popular every day and are becoming a popular choice among celebrities and everyday people who enjoy wearing wigs and makeup.
Why good quality synthetic wigs are popular
Good quality snthetic wigs are cheap
The biggest reason why many love synthetic wigs over human wigs is simply because of their affordability - even the top quality synthetic wigs with you thinking to yourself if perhaps it's just human hair, then its worth a try! In terms of beauty, a high quality, heat-resistant synthetic wig can be less expensive than an actual human hair wig at any point! If you're on a tight budget but want the perfect look, then look no further than these amazing products!
They are not susceptible to allergies
These are also great options for those that are allergic to human hair, as these good quality wigs are much more hypoallergenic than other products on the market today. They are also generally very easy to care for, and many companies have great customer service and return policies so that you will always be confident about your purchase.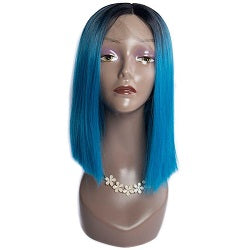 Many manufacturers do not use real animal hair, and many others are using synthetic materials that are 100% cotton. These are all important factors to take into consideration when deciding which type of synthetic wig to use, and you'll want to choose one that is made with the best quality materials possible.
Also, make sure that the quality synthetic wig that you choose is hypoallergenic, which will ensure that you get a safe and healthy experience! Some synthetic products will have artificial chemicals that may be harmful to you, or they may contain materials that may harm your scalp, which may lead to irritation, itching, and even skin reactions, which may make you feel very uncomfortable.
What to consider before buying a synthetic wig
With that said, there are several things that you need to consider before buying a synthetic wig. One of the things that you need to check is the label on the packaging, since it may give you a great idea about the product's quality and safety.
Look into the company's reputation
You will also need to look into the company that makes the item you choose, as well as find out the price they charge, as this is usually a very important factor in the quality of the item. A good brand will often offer their own warranty, and guarantee that it will last as long as you want it to.
It is also wise to check into the reputation of the manufacturer and find out what other customers think about their products, so that you will be confident that they are providing the best quality for their customers. Always be sure to read reviews and ratings on the Internet to ensure that you get the best deal on a good quality synthetic products.
Compare different brands and prices
It is also important to consider the fact that while most good quality synthetic wigs are affordable, they can also be quite pricey. It is best to compare different brands and prices to ensure that you get the best deal available.
Choose the color and texture of the wig
In addition, it is important to remember that some synthetic wigs are not suitable for individuals who have sensitive skin. You should also be aware of the colors and textures of the wig you choose, because it can affect your skin, particularly if you are allergic to it. The color and texture will determine what type of results you will get.
Good quality synthetic wigs are also more comfortable than ordinary wigs, and they can help to reduce stress. as you try to be attractive.
For those who have already used synthetic products, it is always best to consult a dermatologist or doctor if you are experiencing any skin problems after using them, as you may have an allergy. Many people find that using synthetic products does not leave any harmful residue on the skin, as there are no chemicals added, and many synthetic materials don't irritate the skin like traditional human products.